La vertigine nello spazio di Maurizio Ciancia - di Sabrina Zannier
Rimuovere, svuotare, sospendere il tempo, fermarsi a pensare il proprio pensiero per catapultare lo spazio vuoto in una dimensione adatta ad accogliere l'identità pensante. Questa è l'essenza che connota la ricerca di Maurizio Ciancia, avviata all'inizio del 2016 per evolversi in cinque anni di riflessioni, osservazioni e operatività attraverso lo sviluppo di una sempre più incisiva essenzialità. Fondata sull'atto dell'astrarre, processo mentale che isola, che separa una cosa dalle altre per considerarla come specifico oggetto d'indagine. L'astrazione di Ciancia mette in scena la vertigine di uno spazio silente che invoca uno stato di sospensione temporale, ordinamento e pulizia.
Il suo sguardo in affondo sul mondo seleziona dalla realtà alcune fette di paesaggio antropizzato, di architetture risolte in facciate, pareti che nella loro verticalità dialogano con lo sviluppo orizzontale di strade, marciapiedi e parterre erbosi. Due direttrici spaziali che prima accoglievano pochi ma identificati elementi: finestre, porte, portoni, segnaletiche, paletti… Tutto ripreso dal vero, tutto rispondente alla fenomenologia del quotidiano, ma talmente ordinato nella pulizia e nel minimalismo dei segni e delle cromie, da apparire fittizio, pre-costruito come set predisposto allo scatto fotografico. Già qui affiorava un intrigante trabocchetto visivo e concettale, ma poi la via della sintesi si è ulteriormente affinata nell'amplificazione del silenzio.
Sono rimaste le pareti, le strade, i marciapiedi, ma sono scomparsi porte, finestre e altri dettagli che prima suggerivano affondi parlanti di una realtà osservata e vissuta frontalmente, anche se depurati del loro senso simbolico, utilizzati come segni compositivi di una ritmicità segnica e spaziale, ora anch'essa risolta in un'ulteriore semplificazione.
Il filo rosso che persevera nel pensiero e nello sguardo di Ciancia è rintracciabile nell'atto selezionatore, che della realtà conferma sempre due direttrici di senso: la verticale e l'orizzontale della parete e del parterre, le due superfici essenziali alla restituzione concreta dello spazio reale. Uno spazio che in alcuni casi conserva ancora un elemento parlante, per esempio un albero solitario su una distesa erbosa stagliata sulla linea che la separa dal cielo, ma è proprio la sintesi verticale di quest'unica presenza ad amplificare il silenzio.
In questo perseverante processo di astrazione la mente dell'artista deforma lo spazio, lo ricrea secondo nuovi parametri, generando disorientamento e vertigine, come nel dittico che attiva il dialogo fra la verticalità delle muffe verdi su un muro e l'orizzontalità dell'erba. Tra vero e fiction lo spazio di Ciancia ci spiazza, lasciandoci sospesi tra il qui e l'altrove. Perché con l'attivazione di nuove sensazioni percettive – attraverso la maniacalità di restituire il vero nella semplificazione di fasce dello stesso spessore nel dialogo attivato nei dittici e nelle relazioni cromatiche, nell'assenza delle ombre e degli elementi antropici – l'artista inscena la volontà di perdersi nella perdita delle proporzioni reali.
Pur continuando a cercare gli spazi nella realtà, pur continuando a fotografare ciò che concretamente vede, ora Maurizio attiva un ulteriore distacco percettivo, perché è attraverso questa presa di distanza che attua un approccio più intimo, che approda a una nuova autonomia amplificando il suo vissuto, superando la realtà a favore dell'esperienza personale. Da qui affiora il disorientamento e lo straniamento innanzi alle opere ammantate di grigi e tinte terragne, che sembrano stampate in bianco e nero quando invece rispondono a una quadricromia che in quel dettaglio reale svelava solo ciò che ora osserviamo nell'immagine. Anche questa scelta selettiva conduce verso l'omogeneità dello spazio, verso un'unicità personale che nel dialogo fra linee e fasce cromatiche assolve la necessità di una compiutezza capace di catapultare la presunta banalità di una visione ordinaria in una nuova visionarietà concettuale ed emozionale.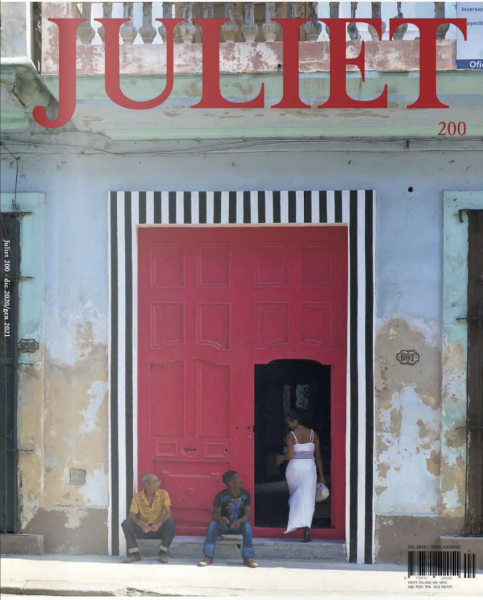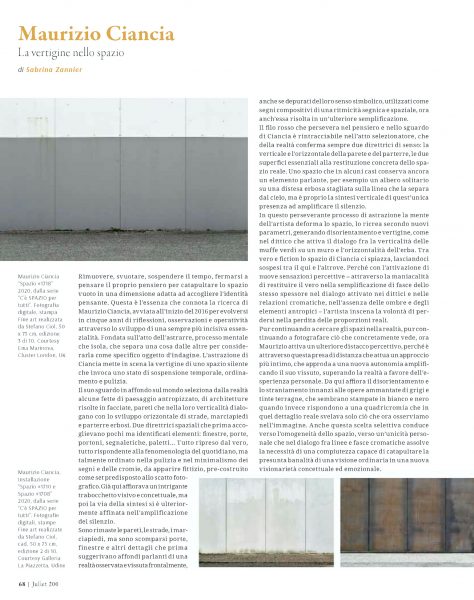 La vertigine nello spazio di Maurizio Ciancia - di Sabrina Zannier
The vertigo in the space of Maurizio Ciancia
by Sabrina Zannier
Removing, emptying, suspending time, stopping to think one's own thoughts in order to catapult the empty space into a suitable dimension to accommodate the thinking identity. This is the essence that connotes Maurizio Ciancia's research, started at the beginning of 2016 to evolve over five years of reflections, observations and operativity through the development of an increasingly incisive essentiality. Based on the act of abstracting, a mental process that isolates, that separates one thing from the others to sort it as a specific object of investigation. Ciancia's abstraction shows the vertigo of a silent space that invokes a state of temporal suspension, order and tidyness.
His deep sight into the world selects some "slices" of anthropised landscape from the reality, of architectures made into facades, walls that in their verticality dialogue with the horizontal development of roads, sidewalks and grassy parterres. Two spatial directions that previously hosted a few yet clearly identified elements: windows, doors, gates, signs, poles... A whole everything taken from life, entirely responding to the phenomenology of everyday life, so ordered in the cleanliness and minimalism of signs and colors though, to appear fictitious, pre-constructed as a set aimed to  the photographic shot.  Such an intriguing visual and conceptual trap was already emerging here, to be then further refined through a synthesis resulting in the amplification of silence.
The walls, the streets, the sidewalks are still there, while the doors, the windows and other details have disappeared, which used to suggest speaking depths of a reality observed and lived frontally, even if purified of their symbolic sense, used as compositional elements of a rhythmic sign and space, now also transformed into further simplification.
The common thread (the fil rouge?) that persists in Ciancia's thought and gaze can be seen in the act of selection, which always confirms two "meaning" tracks of the reality: the vertical and horizontal of the wall and the parterre, the two surfaces essential to the concrete restitution of the real space. A space that in some cases still maintains a speaking element, for example a solitary tree on a grassy field standing out against the line that separates it from the sky, but it is precisely the vertical synthesis of this single presence that amplifies the silence.
In this persevering process of abstraction, the artist's mind deforms the space, recreates it according to new parameters, thus generating disorientation and vertigo, as in the diptych that activates the dialogue between the verticality of the green moulds on a wall and the horizontality of the grass. Between reality and fiction, Ciancia's space disorients us, leaving us suspended between the here and the elsewhere. Because with the activation of new perceptive sensations - through the maniacality of returning the truth in the simplification of bands of the same thickness in the dialogue activated in the diptychs and in the chromatic relations, in the absence of shadows and any anthropic elements - the artist stages his will to get lost in the loss of real proportions.
While continuing to search for spaces in reality, while continuing to photograph what he concretely sees, Maurizio now activates a further perceptive detachment, because it is through this taking of distance that he implements a more intimate approach, that he achieves a new autonomy by amplifying his experience, overcoming the reality in favour of the personal experience. From here the disorientation and estrangement is born, in front of the works adorned in gray and earthy shades, which seem printed in black and white when in fact they respond to a four-color process that in that single real detail only revealed what we now see in the image. Also this selective choice leads towards the homogeneity of space, towards a personal uniqueness that in the dialogue between lines and chromatic bands fulfills the need for a completeness capable of catapulting the presumed banality of an ordinary vision into a new conceptual and emotional visionarity.